At MCF we've had a busy couple of weeks making sure that Beijing is ready for the festive period. We started by organising the joint MCF and Riviera Christmas Fayre which was held last Saturday (26th November). MCF and the Riviera are no strangers, and it was in fact our third time holding the Carols for a Cause event at the Riviera! It was a fantastic day, with a vibrant atmosphere and lots of hustle and bustle around the stalls.
There were around 30 stalls in total, and what a diverse selection of vendors we had! There was a lot on offer from Himalayan salt lamps, to argon oil on the go, to a free water safety training class. And of course, a Christmas Fayre wouldn't be complete without some Christmassy crafts – see the picture below of some handmade advent calendars from Paperdreams. We had a little chat to Claudia from Paperdreams, who said the following: "The event is great! I came last year but it's even better this year. There are some really interesting vendors!"
We also had our very own MCF lucky dip. We had a selection of goodies, and one attendee got so excited that they had ten goes! All the money will go towards funding the good work we do with the migrant kids. Here's what MCF volunteer Lizzie, who manned the lucky dip, had to say about the event: "It's so festive and one of the only places you get to feel Christmassy in Beijing."
When people weren't perusing the stalls, they were treated to some delightful performances from a variety of our favourite entertainers. This included the MCF Kids Club at Dulwich. These kids are regular attendees of the MCF Kids Club headed by Flora, and they spent a lot of time practicing for this special performance. They gave us a sparkling rendition of Rudolph the Red Nosed Reindeer, Jingle Bells and Santa Claus is Coming to Town. Their singing was accompanied by some expert Christmassy choreography and their heads were adorned with antlers and Santa hats. They were enjoying themselves so much that they performed Jingle Bells again at the end of the event! Flora, the head of MCF Kids Club, told us about how excited the kids were on the bus on the way to the event and how they were thrilled to be going somewhere new to experience something different. As Rikke, one of our volunteers at the MCF stall said, it's "so good to see the migrant kids interact with the Christmas festivities."
Next up we had Sissi, one of our youngest volunteers, on the piano. Her performance this year was even better than last year! Lastly, we had Peter Farrell's Academy of Performing Arts Beijing.They had a very festive costume complete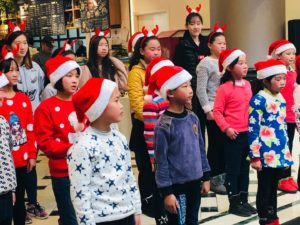 with shiny red boots and their performances included a dance to Jingle Bell Rock – they rocked. It was truly a family friendly atmosphere and everyone was so excited to see the kids perform.
As Helen (MCF's founder) said, it was a great opportunity for the migrant children to mingle with other people and show off their talent. They "worked really hard, as did the volunteers from Dulwich. The fact that there were not just migrant kids, but the performing arts club too, shows that MCF is a platform of opportunity for everyone – closing the gap between these kids."
We're very excited to tell you about our next event, the 2017 Christmas Bazaar, which was held on Saturday the 3rd of December. Keep your ears peeled!