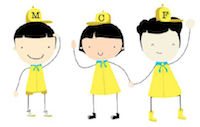 A growing bond has developed between MCF-sponsored migrant schools and Beijing's international schools that has resulted in many cross-cultural learning tools for all involved. Subjects include sports, photography, Fun with Science, arts & crafts and, of course, an English learning curriculum.
In an MCF Kids' Club, students of various ages at international schools, think up, create and organise lessons and activities to do with children at MCF migrant schools. These can be set up for one-off midweek sessions or can be regular sessions at one or more schools. These sessions are vital in giving migrant students a range of learning opportunities, discovering more about education, other people, the world and themselves through a wider range of subjects than is offered by their basic curriculum of English, maths and Chinese.
The first MCF Kids' club was established in 2013 at the Beijing City International School (BCIS), with the students themselves contributing towards the organization and implementation of these events and pursuits. MCF Kids' Clubs are now in operation at Dulwich College Beijing, British School of Beijing, Shunyi, Canadian school (CISB), YCIS, and BWYA.
But the Kids' Clubs are not just for the migrant students, they also provide a platform for international school students to volunteer, fulfil SA and CAS requirements and, more importantly, learn key skills in organisation, communication, responsibility, critical thinking and creativity through teaching and interacting with migrant students, thus seeing a new side of Beijing and acquiring a new perspective on life.