by Andy Peñafuerte
We introduce our new section, Volunteer of the Month, to celebrate our tireless and committed volunteers who take their passion to a different level. We welcome everyone to nominate a volunteer by emailing us at lorna@mcfchina.org.
Volunteer of the Month: Meet Our Christmas Bazaar Event Coordinator, Caroline Owira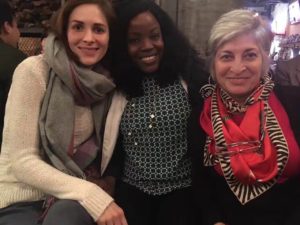 Caroline Owira (centre), together with Helen Boyle (right) and fellow events volunteer Annette (left)
Organising events is not an easy feat. From logistics to pre-event publicity, to getting people work together on the
event day itself, and to doing post-event meetings, events – however grand or small they are – take a lot of
preparation and planning. MCF is no stranger to that: we have Saturday teaching sessions, charity gatherings,
collaborations, and major functions in which many of our volunteers devote their time and passion.
This month, we feature one of MCF's event managing volunteers, Caroline Owira. She is from Kenya and has worked
in the hospitality industry for 12 years. Having arrived in Beijing in April 2016, we can say that Caroline is still a
Beijing newcomer. For two years in a row, she coordinated the foundation's biggest winter event, the MCF Christmas
Bazaar at Beijing City International School (BCIS).
What inspired you to join MCF? Of all the volunteering tasks available, why did you select event
management?
Caroline: I have always participated in projects or charity work in all the countries that I have lived and worked in. So,
when my family moved to and finished settling in Beijing, I started looking up volunteer opportunities. A friend of a
friend introduced me to MCF.
I use my hospitality and event management skills to organise and run events that raise funds to assist migrant
children. The biggest event of the year is the Christmas Bazaar by MCF and BCIS, which I have now coordinated two
years in a row. As I settle in Beijing and continue to work with MCF, I hope that I can get more corporates and
organisations to work with us in terms of sponsorship.
What's your personal gain in volunteering for MCF?
Caroline: it makes me happy knowing that in a small way, I have put a smile on someone's face and helped children
get the healthcare checks and education they require. The relationship built as I interact with other volunteers, and
also getting to know people at the events that we hold or markets and bazaars we attend, is truly valuable.
What are the usual reactions of your friends or people when they know you volunteer for MCF?
Caroline: Most people think it's a noble thing to volunteer one's time, skills, and experience for a good cause. I have
introduced a number of people to MCF during the events that we have or just people I meet at social gatherings
What are the great things that you have achieved so far in your volunteering life?
Caroline: Personal development, meeting great people, and learning from them. But so far my greatest pride while
with MCF is coordinating and organising the Christmas bazaar twice with great success and getting most vendors,
suppliers, and partners wanting to work with us. In the process, we raising money for the migrant children.
Any message you want to say to aspiring volunteers?
Caroline: I will use the MCF motto for this one: "Inspire and be inspired." I believe that little time you have to spare, or
a skill to share, or experiences can change a person's life. Always look for a volunteer opportunity that you enjoy, or
that cause that's close to your heart.
Photo: Courtesy of Caroline Owira
Previously:
September Volunteer of the Month: Middle Schooler Sees Service as a Long-Term Commitment
Student life can be demanding and exhausting, given the tons of homework or the endless books to read to prepare for a much-dreaded exam. Many schools also bring students out to communities as part of extracurricular activities to heighten their awareness of social issues. But what is seen as an effort to connect young people to society can sometimes be treated as a mere requirement for the sake of passing a class.
At 13, Martina Zhang is our youngest volunteer at MCF as a teaching assistant in Saturday activities. The middle-schooler from Beijing World Youth Academy (BWYA) said her first volunteering work was part of her school's "service as action" (SA) assessment back in October 2016. "We need to complete 15 hours of SA to help society. There are other assessments in school that can give us SA hours but I want to do an SA activity that helps people in need. And I thought it will be better if it can be a long-term activity."
Not only Martina was introduced by a friend to the foundation in 2016. Her mom also became one of the volunteers every Saturday. When asked about how she would manage her volunteering time, Martina said she moves her other activities to the evening or on Sunday. Prior to joining MCF, she had two Saturday classes. Now, she finished the morning reading class and moved the art class to the afternoon.
Being a teaching assistant, Martina says, has helped her to build confidence. "This my first time being a teacher assistant. I feel very happy to help the kids and feel very glad for the chance to be one of the MCF volunteers. By teaching and helping the kids, I also built up my confidence and gained respect." Her work has been noticed by many volunteers and her school community. In fact, one of Martina's teachers recognized her commitment and asked her to set up a volunteer team from BWYA.
Though Martina said that the weekly volunteering task is not easy, she felt more confident given that her commitment goes beyond what is required of her in the school assessment, and that her presence would mean another hand to help many children in need. "I want to tell young volunteers or students that helping people doesn't mean you just need to complete service hours as demanded by your school but to really devote your time, effort, and whatever you can to these people. You will be proud of yourself and be very happy when you see them smiling, thanking you, and telling you it is worth your time to do all these things."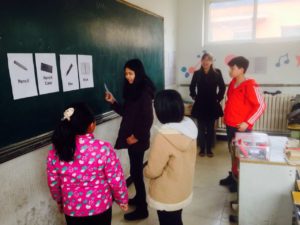 British Teacher Gets Genuine Aspect of Chinese Living with Migrant Kids
Amanda Homer
Originally from the United Kingdom, Homer flew to Beijing 2.5 years ago. "At the beginning of my career I taught French in the UK. In recent years I have been teaching English at primary level in France where we have our home," adds Homer, who continues to teach English in Beijing.
Homer said she was looking to do voluntary work after settling in here. "[I] heard about the Migrant Children's Foundation … and became one of a group of volunteers who go into a migrant school and teach English on a Friday morning." Since then, Homer became very active in participating in MCF's teaching sessions for children aged from three to seven. "[They] are a delight to teach [and] welcome us each week with great enthusiasm and I really enjoy the contact we have with them."
MCF teacher volunteers do weekly sessions in teams, which Homer considers a positive way that helps not only migrant kids but also teachers themselves. "We all have different approaches and ideas and we can learn from each other. We have a lot of fun with the children and I have a real sense of doing something worthwhile and giving something to the community."
Expat living in Beijing has different facets and many of them are connected in social circles based on their interests, hobbies, and communities. Homer said volunteering in MCF "takes [her] out of the insularity of the expat community," and also a service that "enables [her] to experience a genuine aspect of Chinese life."
For Homer, volunteering in MCF doesn't necessarily require being a native English speaker or having teaching experience. "I enjoy being part of a team and I am very happy to have had this opportunity to work with Chinese children here in Beijing," she adds.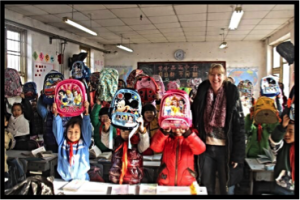 Jayne Smith
Having spent 15 years working as an administrator in both the public and private sector, Jayne moved to Beijing with her husband in May 2013 and joined MCF later that year where she applies her extensive expertise in ensuring the smooth running of the organisation from day to day.