by Andy Peñafuerte
We introduce our new section, Volunteer of the Month, to celebrate our tireless and committed volunteers who take their passion to a different level. We welcome everyone to nominate a volunteer by emailing us at lorna@mcfchina.org.
And for May, our Volunteer of the Month is…
British Teacher Gets Genuine Aspect of Chinese Living with Migrant Kids
Amanda Homer
Originally from the United Kingdom, Homer flew to Beijing 2.5 years ago. "At the beginning of my career I taught French in the UK. In recent years I have been teaching English at primary level in France where we have our home," adds Homer, who continues to teach English in Beijing.
Homer said she was looking to do voluntary work after settling in here. "[I] heard about the Migrant Children's Foundation … and became one of a group of volunteers who go into a migrant school and teach English on a Friday morning." Since then, Homer became very active in participating in MCF's teaching sessions for children aged from three to seven. "[They] are a delight to teach [and] welcome us each week with great enthusiasm and I really enjoy the contact we have with them."
MCF teacher volunteers do weekly sessions in teams, which Homer considers a positive way that helps not only migrant kids but also teachers themselves. "We all have different approaches and ideas and we can learn from each other. We have a lot of fun with the children and I have a real sense of doing something worthwhile and giving something to the community."
Expat living in Beijing has different facets and many of them are connected in social circles based on their interests, hobbies, and communities. Homer said volunteering in MCF "takes [her] out of the insularity of the expat community," and also a service that "enables [her] to experience a genuine aspect of Chinese life."
For Homer, volunteering in MCF doesn't necessarily require being a native English speaker or having teaching experience. "I enjoy being part of a team and I am very happy to have had this opportunity to work with Chinese children here in Beijing," she adds.
Previously: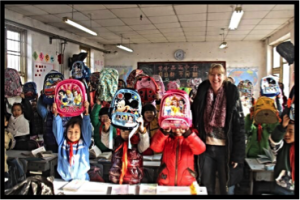 Jayne Smith
Having spent 15 years working as an administrator in both the public and private sector, Jayne moved to Beijing with her husband in May 2013 and joined MCF later that year where she applies her extensive expertise in ensuring the smooth running of the organisation from day to day.