MCF aspires to reach out to as many people who need us as possible. Whether we can help through offering a child an eye check, or a student benefits from resources provided in classrooms, we hope that we can make a difference to migrant families by helping them access better education and healthcare. Sometimes, however, MCF finds a family who are suffering particular hardship and our help is required on a more long term basis, offering support and our resources to enable the family to overcome their difficulty.
Below, we look at several case studies of families MCF has worked closely with due to financial hardship, death or serious health concerns.
Fan Fan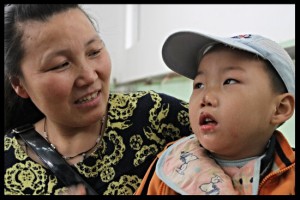 In April, this five year old who suffers from cerebral palsy caught the attention of the founder of MCF, Helen Boyle, while she was visiting one of the MCF sponsored schools. Helen first noticed the young boy was being carried by his mother. Upon finding out that Hu Yi Fan had an ailment, Helen organised a consultation at the Beijing United Hospital and Hu Yi Fan underwent preliminary tests to determine the extent of his illness on May 13th. After a small amount of playful attention while waiting to be seen by the doctor, little Hu Yi Fan came out of his shell and into mirthful laughter and delight, captivating the hearts of all concerned.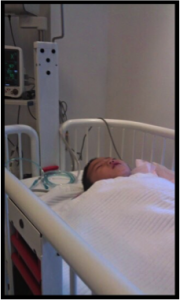 On May 20th, he returned to the hospital to undergo an MRI brain scan. After these checks the extent of Fan Fan's cerebral palsy was determined as well as a further diagnosis of epilepsy. On May 21st, he took part in his first ever therapy session. Thanks to the generosity of Beijing United Hospital and Beijing United Foundaiton, Fan Fan will receive one and a half hours of speech and physical therapy twice a week, for as long as improvement in his condition continues. A magnificent response of commitment and generosity by those that organised these sessions.
Fan Fan has continued to improve on his journey of rehabilitation through physiotherapy. On June 30th, a smiling and excited Fan Fan exhibited signs of significant improvement in enhanced range and scale of movement. His mother, Yanyun, is also receiving counselling on how she can help her son improve by doing daily exercises between physiotherapy visits. Speech therapy has also worked some magic as his communication skills continue to improve.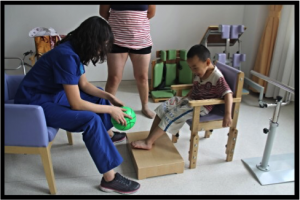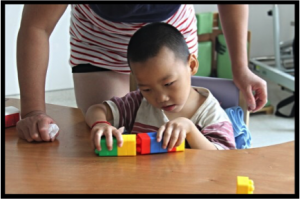 These therapies havecombined to offer Fan Fan a greater quality of life. When MCF first met the five-year old, he was being carried by his mother, who was his only mode of transport. Now, he can stand on his own and is excitingly trying to walk with the aid of specially created walking shoes that provide his body support.
"I just don't know what I would have done without MCF."

– Hu Yanyun
In December, Fan Fan's mother brought him to school to visit Helen and the difference in him was amazing! From being unable to walk, meaning his mother needed to carry him everywhere, and not being able to talk, Fan Fan was now walking by himself with just one hand holding onto his mother's. Not only this, but he was also able to say simple words like 'baba' and 'mama'. We are so pleased with the progress he has made and we hope with the continued support of MCF he will continue to improve.
Zhang's Children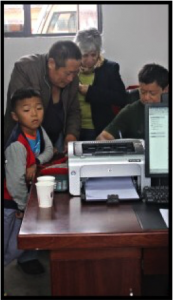 Only days before the start of school in September, MCF made it possible, through funding and influence, for the children of embattled and disabled father, Zhang, to send all three of his children to school. Zhang had been having difficulties supporting and caring for his four children since his wife left the family some time before, with Zhang's eldest, fourteen year old Xiuli, stepping in to help his father care for his younger siblings alongside attending school. However, his brother and sisters were still in need of an education themselves. The school fees for his son, aged 7, and daughter, aged 9, were fully paid thanks to the fundraising efforts of the Beijing's Girl Guides, and the third child was financially sponsored by MCF.
Tao Song
During one of our regular health checks with 100 children, doctors identified an irregularity with the heart of one of the boys, a nine-year old called Tao Song. His parents believed him to be lethargic and a little lazy but on further examination, the doctors discovered two holes in his heart. Following a successful operation they diagnosed further problems with his arteries that needed urgent, life saving surgery. Through the work of MCF, this little boy received the care he needed and now lives a full and active life.
"If it wasn't for the MCF project, I would have lost my son."

– Tao Song's mother
Read more about Tao Song here.
Zanta
We met Zanta earlier, as MCF held a fundraising event to raise money to get her son the extra tuition he needs to help him keep up at school. Zanta is well-known to us at MCF as we have worked closely with her, ensuring her son gets the help he needs, and her extraordinary story of triumph over hardship is worth sharing as an example of the problems that push the migrant workers to leave their homes in the first place and come to the big city in the hope of a better life for themselves and their children.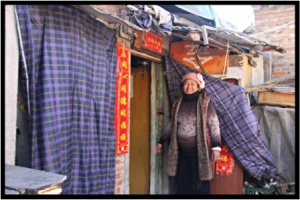 Zanta's adventure started with a love story. She fell in love with a young man from a neighbouring village – already a no-no in Tibet, where marrying outside your own circle is frowned upon, greatly. A son was born, and then some years later, tragedy stuck and Zanta's life was shattered. Her husband passed away, and in Tibet, the son is generally returned to the husband's family, who are all shepherds with no education. Zanta wanted a better life for her son so, after much soul-searching, she journeyed to Beijing. At first, life was very difficult, but she eventually found friends in the MCF community who helped her and her son. She made Tibetan jewellery to support herself, and now she lives in a small home with her son, who is attending school and he loves it but he needs remedial tutoring to keep up with his peers and ensure his continued success and enjoyment at school.
"I'm so grateful that my son has the chance to learn from the volunteers, be a better person and pass his exams."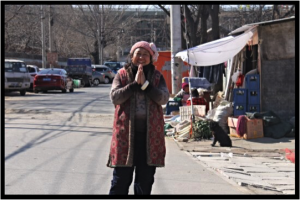 Zanta is one of thousands who have made the long journey from villages and towns all over China to Beijing, and her story of hardship is just one among so many. The decision to travel so far is never taken lightly and we hope that by highlighting her story we can encourage greater understanding of the plight of the migrant workers here in Beijing and, perhaps more importantly, their children, who can so easily escape notice in a city of 25 million people, but who desperately need our help.