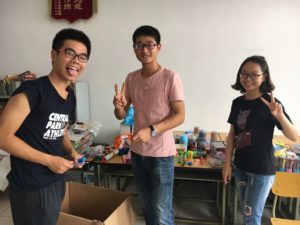 We've been partying our way through the start of September, as we've been invited to welcome parties and open evenings for some of our favourite schools and organisations. We visited BSB Sanlitun, and as usual were hugely impressed with the school's generosity and warmth. We also went to BMAC's open evening at the Polish embassy as their supported charity. It was a colourful, magnificently multicultural evening with great food, performances (including from kids from the MCF infants school!) and much generosity on display. Many thanks to MG Slawomir Kaluzinski and Helga for inviting us to the celebrations and helping us promote the work we do. See below a video of the MCF kids and Helen showing off their dance moves!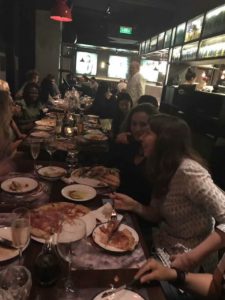 We value our volunteers immensely here at MCF, and we like to celebrate what we've achieved as much as possible. We had a volunteer social this month at Bottega in Liangmaqiao to introduce volunteers old and new, say thank you for all the work done and, as it's the start of a new semester, get ready for the work to come! Talking of volunteers, here's a picture of three of our lovely volunteers (Steve, Ya Bo and Der) in the MCF office sorting through donated stationary. As you can see they've got big smiles of their faces, and their volunteer group (from University of International Business and Economics) do an excellent job of sending volunteers and teaching assistants to our Friday and Saturday sessions.
A new semester means lots of new activities for our kids at MCF. We were treated to 47 Keystone Academy students coming to the MCF Infants school on the 16th of September to make Jack in the Boxes, finger puppets and wands with the students. Lots of glitter on faces and smiley youngsters was the reward for their time, effort and teamwork. A dedicated group of Keystone art students also did a fantastic job of decorating the nursery walls. Talking of decorating the walls, we were also treated to students from The Beijing Centre (TBC) at UIBE who painted one of our classrooms and made it a more attractive learning environment for our students. On the 22nd of September very special memories were made with the awesome volunteers from the British Club Beijing and MCF. The children had a blast with lotus leaf canvases, painting their own t-shirts, riding ponies and so on. Thank you to the BCBJ for helping us make this happen!
On the 16th of September we had our first session of the BWYA MCF Kids Club. Led by Angela, the group will come and teach six classes, two weekly and four fortnightly. The students have organised volunteers, planned lessons, and gathered resources, and their preparation paid off! We had four classes of engaged students learning diverse subjects: English, science, photography, and visual arts. It's so great that we can offer these students such a range and it's all thanks to the work and dedication of the BWYA MCF Kids Club – they deserve a round of applause!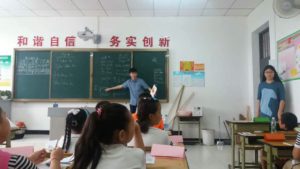 As usual, we've been attending as many events as possible. We were invited to the British Embassy this month where we got to celebrate the spirit of youth – something MCF can definitely get behind. Thank you to the British Embassy for having us and letting us engage with a whole new audience of young people. We were also able to engage with prospective new volunteers at YCIS. We're hoping a YCIS/MCF Kids Club can be in the pipeline, and if their enthusiasm is anything to go by, then it should definitely be on its way! We also went to The Bulk House's Eco-Art Festival, which was a great event in a great space.
September saw our Friday and Saturday volunteers heading back to school for the first MCF session of September. We love the energy and attitude of our new and returning teachers, as well as the new and returning students! We want to say a big thank you to all our volunteers who travel far each week to teach the little ones, and a big thank you to the schools that welcome us every week with open arms and big smiles.
We look forward to telling you more about how the new semester is going in our next blog post. Till next time!