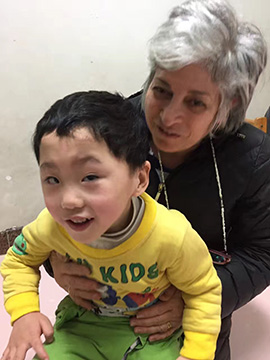 Peng Changyu, the little boy who needs the support of the public, suffers from a number of medical conditions that reduce his quality of life dramatically. My appeal to everyone comes from personal familiarity with the boy and his problems and I am making a special request – this boy's case is deserving of everyone's generosity. Please give whatever you can to reach the target of 280000 RMB for his operation. This amount may appear to be a mountain, but with one kind act followed by another it can become a level path for this little boy's future.
Peng Changyu has recently started his therapy at the Tongren Hospital. The session consisted of identifying numbers and words when spoken by the therapist. He appeared very competent throughout the tests which showed that he could hear the questions as well as understand the words. This course of therapy will continue on a daily basis for a number of weeks in order to determine his hearing ability and cognitive powers. After this, the plan is to undergo surgery. To cover this course of therapy, 7300 RMB was deposited with the hospital and I would like to thank all those that gave generously in supporting Peng Changyu, especially the members of InterNations.
Allow me to thank everyone again and to wish you all the very best.
Migrant Children's Foundation
Helen Boyle
+86 156-1100 9486
For donation please contact Helen Boyle.