We started this month by having a well-deserved brew and a biscuit at British Beijing's Morning Cuppa event. We were the supported charity, which meant we got to spill the beans on the exciting things we've got planned for the future.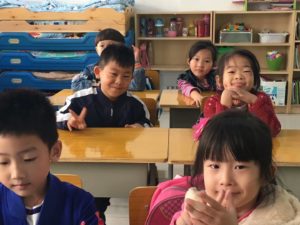 We're keeping ourselves extra busy at the moment, as we teach not one, not two, but three classes on Friday mornings! It's all thanks to some new additions to our Friday teaching team who brought their warmth, enthusiasm and new ideas to the classes.
Each week our dedicated volunteers teach English and Science. Being able to run both English and Science programmes at two schools on the same day just goes to show how we're growing in scope. As you can see from the photos below, the students really are engaged and it's a pleasure to see. We've said it before and we'll say it again; it's all thanks to our hardworking volunteers – old and new – who enable the classes to happen. This month we also welcomed Aileen on board as our new MCF Science Teacher!

BWYA MCF Kid's Club is one of our newest kids clubs – they write a mighty fine lesson plan and the kids are super engaged! They've been working their magic teaching English, art, music, Chinese and calligraphy (what a combo!). It's so great to see our students show off their creative skills. Check out the beautiful paintings above!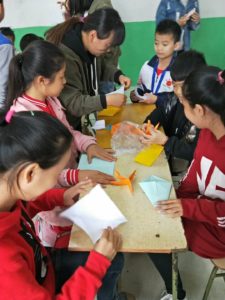 Keeping up with the creative spirit, BCLU taught English and Origami at our school in the south one Saturday. A lot of our teaching groups work hard to combine English with other skills, offering students the chance to embrace arts, creativity and language in one lesson – as you can see above it really pays off!
We were treated to some of our favourite visitors this month, including Rotaract who visited our deaf school on Saturday and did arts and crafts with the children. The kids always have a great time when Rotaract are around! A team of volunteers from Hilton Beijing came to one of our schools to teach survival sills. Fire, electrical and traffic safety were all covered and as you can see from the pictures, the students got to try out their extinguisher handling skills. Thank you Hilton Beijing for giving the students a better chance of survival in case of emergency! We were also treated to some Eagle Scouts from Troop 943 installing corkboards and hand sanitizers in over 15 classrooms at one of our schools – thank you boys!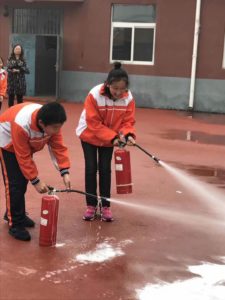 We're not the only ones writing about what we're doing… MCF Dulwich Kids' Club have written a lovely write-up of their Saturday morning session where they taught the topic 'dream'. Follow the link to read their dreamy article. And here's their love-ly article on the topic 'love'.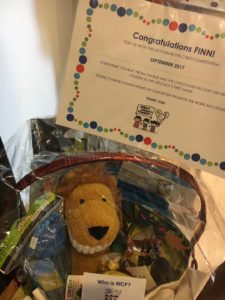 This month we announced the winners of our 'Name the Child' logo. As you might have noticed, there are three lovely children in our logo and earlier this year we asked for them to be named. We had so many great entries that we decided to give each of the three children in our logo both a first name and a middle name! The winners for naming the boy, as announced by Lorna (Volunteer Coordinator) at BSB Sanlitun morning assembly, were Finn and Tanner. Finn came up with the name 'Charlie' (from Charlie & the Chocolate Factory) and Tanner came up with 'Obex', which means 'a good boy'. We're so happy the children in our logo now have identities. This helps us represent the children we work with and promote the work MCF doe – big thanks to Finn and Tanner!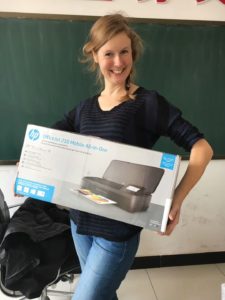 We were very fortunate this month as the World Bank Family Network (WBFN) donated two very high tech printers to MCF. Many thanks to our volunteer Jenny, who saw the need, applied for them and arranged the delivery. Thank you so much to Jenny and to the WBFN! It's so cool when people think of different ways of giving to MCF. This month we want to thank Kavita, one of our volunteer teachers, for encouraging her friends to donate to MCF during their Diwali celebrations. Thanks to RDFZ secondary school, as well, for having an 'Adopt a Plant' day!
Also this month, catch MCF founder Helen chatting to China Development Brief about MCF's work.
We look forward to updating you on next month's activities!