We've fully embraced the festive season here at MCF. From Christmas fairs to Christmas crafts, there's no doubt it's Christmas here in Beijing! We've had so much fun recently co-hosting two Christmas events; Carols for a Cause with the Riviera, and the 2017 Christmas Bazaar with BCIS. You can read more about both events here and here. We also popped along to the Canadian International School of Beijing (CISB)'s Charity Bazaar and the 'Give a Present' Christmas Market at Café Zarah. We were very happy to be invited and to show off our lovely Christmas goodies. Café Zarah also hosted a cookie cutter event that was in aid of MCF. In true festive spirit, our volunteers were also treated to a Christmas buffet at Café Zarah. This was a lovely get together that allowed MCF to celebrate and thank the work of the volunteers. Much mulled wine was drank and everyone was very excited to receive their very own MCF goodie bag!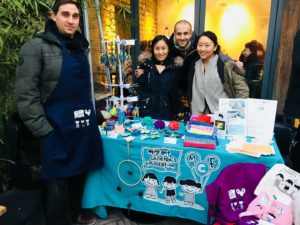 As the weather gets chillier, the health of the migrant students is as important as ever. During November, Helen took over 170 children to the Globalcare Hosital for a full checkup.. Thanks again to Globalcare for making this happen, and a special mention goes to our volunteer Rikke who assisted Helen with the programme, and Stuart Rankin from St James' Place Wealth Management for sponsoring this project (and for handing out much-needed sweets to the kids!). A big shout as well to the children that wait patiently, don't complain and behave so well, in what is a morning of queuing, tests, and being poked and prodded.
Thanks to our dedicated volunteers, the kids have gone above and beyond the traditional curriculum these past couple of months. BSB Shunyi taught the kids how to make catapults, and BWYA taught photography, music, art and much, much more! The kids were also treated to some music from Dulwich. Atelier Art school are in the process of setting up an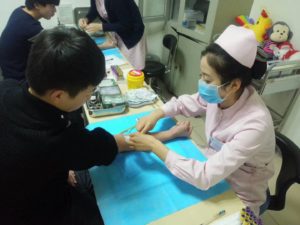 art room and Fablab at one of our migrant schools, giving the children access to much-needed resources. Of course, English was taught as usual by both The Canadian School, and our MCF English team. In the east Beijing school, our volunteers have been focusing on communicative English and it's paying off – no more "Fine, thank you, and you?" as these kids nail unrehearsed answers! Our MCF classes are active as well as educational, and we started the month by continuing with our series of sport lessons. This is a great chance for the kids to design games for their fellow students and ensure they're keeping warm in these colder months. The kids have also been treated to Christmas card making, Christmas games, and generally embracing the festive period in all its glory.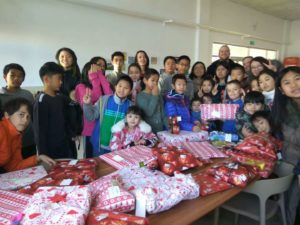 Talking of Christmas, our Secret Santa programme has benefitted enormously from generous donations. We'd like to thank Café Zarah who encouraged their Christmas market visitors to donate presents. Big thanks as well to Beijing Xin Fuxue International School and Hyde Academy for lovingly wrapping and donating 100 presents! One of our supporters, Helen, also bought, wrapped and delivered 30 presents to one MCF school. The Canadian School also collected, wrapped and delivered a whopping 100 presents! In total, we think we managed to beat the 1,100 presents delivered last year – thank you to everyone who helped make this happen!
Donations of any kind are always welcome at MCF. Oliver and members of his Eagle Scout troupe brought over 200 Chinese and English books to fill the shelves they built last semester at the school. Many thanks to Oliver and the troupe for their continued support! Big thanks as well to Mark and Julie Pankratz, staff members at Dulwich, for the new TV and Xbox donated to MCF. Thanks also to British Club Beijing who raised over 12,000 RMB for MCF at their monthly morning cuppa raffles. This money has allowed us to buy 4 new computers for an MCF school in East Beijing! We'd also like to thank Dulwich for their continued support. In November Lorna visited the school to talk to Year 12 students about volunteering, and to thank Year 13 students for helping with last year's Murder Mystery Event. A special mention as well goes to Elisabeth Henssler who helped with the event, and to four Year 9 students who helped raise money for MCF.
While we have some incredibly generous supporters, we do still need more. In November and December there'sbeen a shortage of both books and scissors! If you're feeling generous, please drop some scissors off at our donation bin at Home Plate in Sanlitun or contact Rikke at donations@mcfchina.org. If you've got some books to give, please contact Molly at books@mcfchina.org. Your generosity would be very much appreciated – please join us in helping to spread the festive cheer!
It's now the end of semester, but we're already looking forward to telling you about next semester's activities! A big Merry Christmas from us and our volunteers to all our supporters!